Industry news, expert analysis, and daily updates on the most significant insurance coverage legal developments—from the insurance and legal experts of The National Underwriter Company.


Exclusions
Absolute and Qualified Pollution Exclusions Both Bar Coverage of CERCLA Claims, 4th Circuit Holds
The U.S. Court of Appeals for the Fourth Circuit has affirmed a district court's decision that insurance policies with a qualified pollution exclusion and other insurance policies with an absolute pollution exclusion all barred coverage of claims against an insured under the Comprehensive Environmental Response, Compensation, and Liability Act. Read More

Homeowner's Insurance
Policy's Business Exclusion Bars Coverage for Dog Bite Claim against In–Home Day Care Center
A federal district court in Michigan has granted summary judgment in favor of an insurer, finding that a homeowner's policy's business exclusion barred coverage for a claim against an in-home day care center for a child allegedly bitten by a dog at the home. Read More
Homeowner's Insurance
Appellate Court Affirms Ruling for Insurer Based on Late Notice, Even Where Trial Court Had Not Reached Prejudice Issue
An appellate court in Florida has affirmed a trial court's decision in favor of an insurer on the basis of late notice, even though the trial court had not reached the issue of prejudice to the insurer. Examining the record, the appellate court found that the insured had not met his burden to provide sufficient evidence to overcome the presumption of prejudice as a result of the late notice. Read More

Worker's Compensation
New Mexico Supreme Court Rules Undocumented Workers Entitled to Benefits Where Employer Failed to Follow Federal Hiring Rules
The New Mexico Supreme Court has held that employers that cannot demonstrate good faith compliance with federal law in the hiring process cannot use the undocumented status of their workers as a defense to payment of modifier benefits under the New Mexico Workers' Compensation Act. In particular, it ruled that an employer that did not properly fill out an I–9 Form and demand necessary documentation, as required, either should have known or was deemed to have known that the worker would likely be undocumented and ineligible for rehire in the event of injury. Read More

---
View All
Case Law Developments

Homeowner's Insurance
New York Assembly Passes Superstorm Sandy "Insurance Reform Package"
The New York State Assembly has passed legislation that, it said in a statement, "would help reform the arduous recovery and rebuilding process in the wake of widespread damages caused by" Superstorm Sandy. The bills would establish a homeowner's bill of rights, reform the insurance process "to make it more timely and efficient," and "hold insurance companies to a higher standard of accountability." In particular, one bill would establish requirements for insurers to investigate disaster claims and require that they accept or reject potential claims within 15 business days of concluding the investigation; this bill would "lay out specific claim investigation and settlement standards to ensure timely responses, investigations and settlements from insurance companies," according to the Assembly's statement.
Read More
Personal Auto
24 States Approve Electronic Proof of Insurance Coverage
In what has become one of the hot insurance–related legislative trends, 17 states have passed laws this year allowing drivers to show proof of insurance using a smart phone. The 17 states that have approved electronic proof of coverage laws in 2013 are: Alaska, Arkansas, Colorado, Georgia, Indiana, Iowa, Kansas, Kentucky, Maine, Mississippi, North Dakota, Oregon, Tennessee, Texas, Utah, Washington, and Wyoming. This list is likely to grow even longer in 2013 as legislation is awaiting signature by governors in Florida, Illinois, Missouri, and Wisconsin Read More
---
View All
Legislative/Regulatory Developments

Steven A. Meyerowitz, ESQ.
Director, FC&S Legal
Victoria Prussen Spears, ESQ.
Associate Director, FC&S Legal

FC&S Legal Editorial Advisory Board

Mitchell J. Auslander, Willkie Farr & Gallagher LLP
Carrie Cope, Schuyler, Roche & Crisham, P.C.
Anjali C. Das, Wilson Elser
John F. Finnegan, Chadbourne & Parke LLP
Michele L. Jacobson, Stroock & Stroock & Lavan LLP
Timothy P. Law, Reed Smith LLP
Donald S. Malecki, Malecki, Deimling, Nielander & Associates, LLC
Cort T. Malone, Anderson Kill & Olick, P.C.
D. Milone, Kelley Drye & Warren LLP
Joseph P. Monteleone, Tressler LLP
Anne M. Murray, Rivkin Radler LLP
Jerold Oshinsky, Kasowitz, Benson, Torres & Friedman LLP
Seth B. Schafler, Proskauer Rose LLP
David D. Thamann, The National Underwriter Company
INDUSTRY NEWS
Is Trying to Get a Long Term Care Claim Paid "Like an Olympic Event"?
Read More
Insurance Certificates and Evidence of Insurance for Lease Transactions
Read More
Travelers to Acquire The Dominion of Canada General Insurance for $1.1 Billion
Read More
NEW PRODUCTS
XL Group Extends Umbrella and Excess Liability Coverages to Upper Middle Market Businesses
Read More
PEOPLE
Robert A. Kauffman Joins Blank Rome from Harleysville Insurance
Read More

View All Industry News
---
CALENDAR
Employment Practices Liability Insurance
Read More
HarrisMartin's Superstorm Sandy Insurance Coverage Litigation Conference
Read More
Asbestos Claims & Litigation
Read More

View Full Calendar
---
INSURANCE COVERAGE LAW REPORT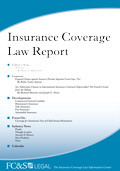 Focus On: Inadvertent Omission of Exclusion Created Only the Appearance of Coverage, Circuit Finds in Upholding Decision Overturning Jury Verdict in Insured's Favor
Read More
State Responses to Superstorm Sandy and Other Natural Disasters: Implications for Ceding Companies and their Reinsurers
Read More
Insurance Certificates and Evidence of Insurance for Lease Transactions
Read More

View Entire June Insurance Coverage Law Report
View Insurance Coverage Law Report Archives
---
CONTACT US:
Customer Service:
1-800-543-0874
Email:
customerservice@sbmedia.com