Industry news, expert analysis, and daily updates on the most significant insurance coverage legal developments—from the insurance and legal experts of The National Underwriter Company.



Commercial General Liability
Multiple Occurrences where Priest Allegedly Abused a Minor over Several Years and Policy Periods, New York's Top Court Rules
For the first time, New York's highest court, the Court of Appeals, has addressed the meaning of "occurrence" in the context of claims based on numerous incidents of alleged sexual abuse of a minor by a priest that spanned several years and several policy periods. In a plurality decision, the court ruled that there were multiple occurrences, adding that there should be a pro rata allocation across all implicated policies. Read More
Commercial Property
Court Finds Policy's Appraisal Provision Enforceable, Even where Insurer Retained Right to Deny Claim
A federal district court in Illinois has upheld the enforceability of a commercial property insurance policy's appraisal clause notwithstanding the insurer's retention of the right to deny the claim, ruling that the insurer retained only the right to dispute issues of coverage and not the valuation of the property at issue.
Read More
Automobile Insurance
Appeals Court Upholds Reduction of Insureds' Jury Award by Amount of PIP Benefits Received from Their Insurer
An appeals court in Massachusetts has affirmed a trial court's decision that reduced the amounts a jury awarded insureds in their negligence action by the respective amounts they had received in personal injury protection ("PIP") benefits from their insurer.
Read More
Automobile Insurance
6th Circuit: Insurer Did Not Breach Structured Settlement Agreement by Complying with Garnishment Order
The U.S. Court of Appeals for the Sixth Circuit has ruled that an insurance company that had obtained an annuity to fund a structured settlement did not breach the agreement by complying with a garnishment order against the annuity payments, and that the insurer had no duty to claim an exemption in the annuity payments on behalf of the beneficiary. Read More
---
View All
Case Law Developments

Title Insurance
Title and Escrow Company Settles Charges It Did Business in California without a License
The California Department of Insurance has reached a settlement with Timios, Inc., a Delaware corporation allegedly doing title and escrow business in California without a license. Under the agreement, Timios agreed to pay a $65,000 penalty and another $20,000 to reimburse the department for its investigative and legal costs, and to stop what the department said was its illegal activities.
Read More
Regulators' Conference
U.S. and International Insurance Regulators are Meeting in Washington
The National Association of Insurance Commissioners is hosting the sixth annual International Insurance Forum today and tomorrow in Washington, D.C. Read More
---
View All
Legislative/Regulatory Developments

Steven A. Meyerowitz, ESQ.
Director, FC&S Legal
Victoria Prussen Spears, ESQ.
Associate Director, FC&S Legal

FC&S Legal Editorial Advisory Board

Mitchell J. Auslander, Willkie Farr & Gallagher LLP
Carrie Cope, Schuyler, Roche & Crisham, P.C.
Anjali C. Das, Wilson Elser
John F. Finnegan, Chadbourne & Parke LLP
Michele L. Jacobson, Stroock & Stroock & Lavan LLP
Timothy P. Law, Reed Smith LLP
Donald S. Malecki, Malecki, Deimling, Nielander & Associates, LLC
Cort T. Malone, Anderson Kill & Olick, P.C.
Richard D. Milone, Kelley Drye & Warren LLP
Joseph P. Monteleone, Tressler LLP
Anne M. Murray, Rivkin Radler LLP
Jerold Oshinsky, Jenner & Block
Seth B. Schafler, Proskauer Rose LLP
David D. Thamann, The National Underwriter Company
INDUSTRY NEWS
ACE Acquires Personal Lines Insurer ABA Seguros in Mexico
Read More
Reinsurance Association of America Elects 2013-2014 Officers
Read More
Insurance Coverage for Invasion of Privacy Claims
Read More
NEW PRODUCTS
New Conservation Liability Insurance Protects Millions of Acres in 46 States
Read More
PEOPLE
Validus Holdings Appoints Therese M. Vaughan to Its Board
Read More

View All Industry News
---
CALENDAR
Emerging Insurance Coverage & Allocation Issues in 2013
Read More
9th Annual Canadian Captives & Corporate Insurance Strategies Summit
Read More
NYIA 2013 Annual Conference
Read More

View Full Calendar
---
INSURANCE COVERAGE LAW REPORT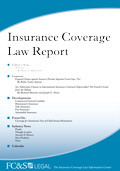 Focus On: Coverage for Law Firm Victimized in Check Scam
Read More
Is Defective Construction an "Occurrence"? The Answer Isn't So Concrete
Read More
Insurance Coverage for Internet Copyright Claims
Read More

View Entire May Insurance Coverage Law Report
View Insurance Coverage Law Report Archives
---
CONTACT US:
Customer Service:
1-800-543-0874
Email:
customerservice@sbmedia.com