Industry news, expert analysis, and daily updates on the most significant insurance coverage legal developments—from the insurance and legal experts of The National Underwriter Company.


Professional Liability Insurance
NY: Having Breached Duty to Defend, Liability Insurer May Not Cite Policy Exclusions to Escape Duty to Indemnify Insured for Judgment
New York's highest court, the Court of Appeals, has held that, when a liability insurer has breached its duty to defend its insured, the insurer may not later rely on policy exclusions to escape its duty to indemnify the insured for a judgment against the insured. The court ruled that an insurance company that had disclaimed its duty to defend, "may litigate only the validity of its disclaimer," and stated that if "the disclaimer is found bad, the insurance company must indemnify its insured for the resulting judgment, even if policy exclusions would otherwise have negated the duty to indemnify. This rule will give insurers an incentive to defend the cases they are bound by law to defend, and thus to give insureds the full benefit of their bargain. It would be unfair to insureds, and would promote unnecessary and wasteful litigation, if an insurer, having wrongfully abandoned its insured's defense, could then require the insured to litigate the effect of policy exclusions on the duty to indemnify". Read More

Exclusions
Court Refuses to Dismiss Claim Seeking Coverage for Alleged Loss of Dozens of Pallets of Chemicals at Warehouse
A federal district court in Louisiana has refused to dismiss a complaint against an insurance company seeking coverage for the alleged loss of several dozen pallets of bulk chemicals from a warehouse, finding that three exclusions in the policy did not clearly bar coverage. Read More
Automobile Insurance
Health Care Provider Stated Claim against Insurer Based on Assignment of Benefits, Appeals Court Finds
A Colorado appeals court has reversed a trial court's decision dismissing a health care provider's suit against an insurer seeking payment of benefits assigned to the provider by a person who allegedly was injured by the insured. Read More

Health Insurance
U.S. Supreme Court Rejects Court Challenge to Arbitrator's Decision that Doctor's Contract with Insurer Provided for Class Arbitration of Disputes
In a unanimous decision, the U.S. Supreme Court has ruled that courts could not overturn a decision by an arbitrator that a contract between a physician and a health insurer provided for class arbitration of disputes. The case is Oxford Health Plans LLC v. Sutter, No. 12–135 (U.S. June 10, 2013). Read More

---
View All
Case Law Developments

Alternative Risk and Captives
NY Regulators Find $48 Billion in "Shadow Insurance" at NY-Based Insurers and Affiliates
What the New York Department of Financial Services has characterized as its 11 month long "extensive investigation into shadow insurance at New York-based insurance companies and their affiliates" has led to a report in which the DFS warns about risks to policyholders and the economy as a whole from the use of "shadow insurance" and insurer carriers' use of captives.
Read More
Alternative Risk and Captives
NY Regulators Blast "Shadow Insurance" and Insurers' Use of Captives
Citing a "little-known loophole that puts insurance policyholders and taxpayers at greater risk," the New York State Department of Financial Services ("DFS") has issued a report that blasts what it characterizes as "shadow insurance." Read More
---
View All
Legislative/Regulatory Developments

Steven A. Meyerowitz, ESQ.
Director, FC&S Legal
Victoria Prussen Spears, ESQ.
Associate Director, FC&S Legal

FC&S Legal Editorial Advisory Board

Mitchell J. Auslander, Willkie Farr & Gallagher LLP
Carrie Cope, Schuyler, Roche & Crisham, P.C.
Anjali C. Das, Wilson Elser
John F. Finnegan, Chadbourne & Parke LLP
Michele L. Jacobson, Stroock & Stroock & Lavan LLP
Timothy P. Law, Reed Smith LLP
Donald S. Malecki, Malecki, Deimling, Nielander & Associates, LLC
Cort T. Malone, Anderson Kill & Olick, P.C.
D. Milone, Kelley Drye & Warren LLP
Joseph P. Monteleone, Tressler LLP
Anne M. Murray, Rivkin Radler LLP
Jerold Oshinsky, Kasowitz, Benson, Torres & Friedman LLP
Seth B. Schafler, Proskauer Rose LLP
David D. Thamann, The National Underwriter Company
INDUSTRY NEWS
The Emperor's New Economic Loss Rule
Read More
Marsh Reviews 2013 Changes to ISO Endorsements
Read More
California Supreme Court Expands Fraud Exception to the Parol Evidence Rule, Eliminating Significant Barrier to Claims of Promissory Fraud against Insurers
Read More
NEW PRODUCTS
ACE Launches New Contractors Pollution Liability Coverage for Health Care Industry Construction Projects
Read More
PEOPLE
Prudential Financial Promotes Susan Blount to Executive Vice President
Read More

View All Industry News
---
CALENDAR
Employment Practices Liability Insurance
Read More
HarrisMartin's Superstorm Sandy Insurance Coverage Litigation Conference
Read More
Asbestos Claims & Litigation
Read More

View Full Calendar
---
INSURANCE COVERAGE LAW REPORT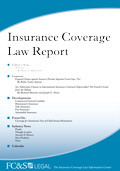 Focus On: Inadvertent Omission of Exclusion Created Only the Appearance of Coverage, Circuit Finds in Upholding Decision Overturning Jury Verdict in Insured's Favor
Read More
State Responses to Superstorm Sandy and Other Natural Disasters: Implications for Ceding Companies and their Reinsurers
Read More
Insurance Certificates and Evidence of Insurance for Lease Transactions
Read More

View Entire June Insurance Coverage Law Report
View Insurance Coverage Law Report Archives
---
CONTACT US:
Customer Service:
1-800-543-0874
Email:
customerservice@sbmedia.com