Don't miss this opportunity to
RENEW YOUR FREE SUBSCRIPTION
The facts: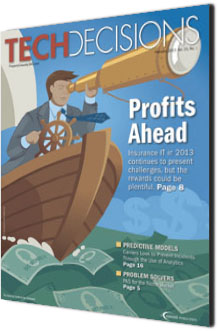 1. Your last issue is fast approaching! Unless you renew immediately we will not be able to keep sending you
Tech Decisions. To renew, simply click here, answer a few brief questions and you're finished!
2. In today's uncertain environment you cannot afford to miss the publication that is uniquely positioned to provide you with essential information aimed at top IT professionals like you. Renew now and we'll continue to bring you this information for FREE.
3. Respond within 5 days and I'll guarantee that you won't miss a single issue!
Hurry, time is running out - renew today!
Sincerely,
Lynn Kruetzkamp
Audience Marketing Director
Note: In the event that no URL links appear in this e-mail please copy and paste PropertyCasualty360.com/TDrenew to renew.