New Form 5500 data available in FreeERISA!
We've updated our database to include the most recently filed Form 5500s from 2011 and 2012. Increase your prospecting pool by accessing this new information now—Free!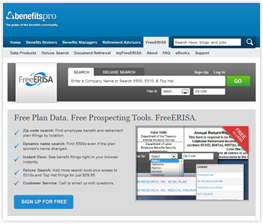 August 2013 Form 5500 updates include:
For 2012
85,732 retirement plans
6,180 health and welfare plans

For 2011
4,216 retirement plans
1,446 health and welfare plans
Start researching these new filings now!
---
Want breaking benefits and retirement news delivered to your inbox?
Instantly subscribe to BenefitsPro Daily eNewsletter today!
---